Go to my planet
DESCRIPTION
By mistake you have arrived on planet Earth. The army of this planet wants to eliminate you. You have to get out of here and go back to outer space, but be careful, other spaceships also want to eliminate you.
Kill all of them and return to your planet where you can finally live in peace.
Note: As you eliminate enemies you advance in the game.
HOW TO PLAY
| | |
| --- | --- |
| Q | Up |
| A | Down |
| O | Left |
| P | Right |
| SPACE | Shoot |
| E | Start the game |
AUTHORS AND LICENSES
Programming, graphics and music: Diego Izquierdo Villar
The game has been developed in C using the 8BP library wrapper.
Source code: GNU General Public License, version 3.

To make this game possible I used the following software:
8BP library: 8BP library developed by Jose Javier García Aranda
WinAPE: An Amstrad emulator for PCs running Windows
RGAS: Allows the creation of graphics for retro game platforms
GESTURE
At the end of the second phase, bricks fly through space (gesture to Larcena's Legacy)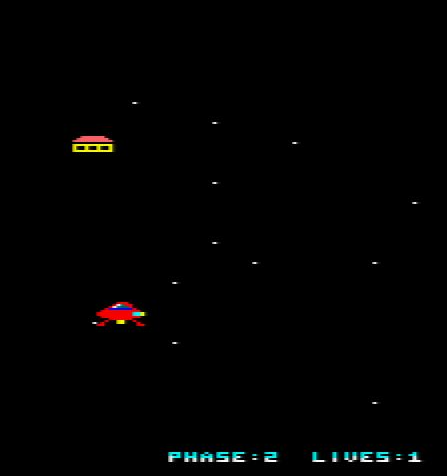 HOW TO RUN THE GAME USING WINAPE
DSK file: File -> Drive A: -> Insert Disc Image
Select file myplanet.dsk
run "LOADER.BAS"